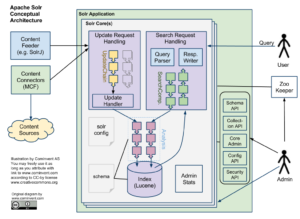 We at Cominvent have often had the need to visualize the internal architecture of Apache Solr in order to explain both the relationships of the components as well as the flow of data and queries. The result is this conceptual architecture diagram, clearly showing how Solr relates to the app-server, how cores relate to a Solr instance, how documents enter through an UpdateRequestHandler, through an UpdateChain and Analysis and into the Lucene index etc.
The drawing is created using Google draw, and the original is shared on Google Docs. We have licensed the diagram under the very permissive CC-by license which lets you use, modify and re-distribute the diagram, even commercially, as long as you give attribution with link to Cominvent. To get started, simply:
Click the thumbnail (link) which will open Google Docs (log in to your Google Account)
To make your own copy, select "Make a copy…" in the File menu
Make sure to keep the CC license logo and a link to www.cominvent.com
Please share your edits with the community if you think it is useful to others
Comments are welcome!